Details

Last Updated on Tuesday, 26 August 2014 21:37
The SBU is the National Governing Organisation for Bridge in Scotland   about the SBU - President's Reports   
 Edwin Berry - Teams of 4  more  Stirling Pairs more     Diamond   more                
Details

Last Updated on Sunday, 24 August 2014 22:02
Gold Cup Plate 2014  results
Gipson beat Shenkin by 134-92 IMPs
---
National League -     timetable
---
Entries of SBU competitions          e-mail  
---
Stirling Pairs         New date         Saturday 27th September.  poster
---
Selection Policy                     The SBU Council have updated the Selection Policy   
---
Scottish Cup 2014    Draw    
The final of this prestigious event  together with the final of the Scottish Plate will be held at the Peebles Congress in December 2014.    
---
Scottish Cup Plate 2014   draw
 The final will be held at  the Peebles Congress on the 13th December 2014.
---
Details

Last Updated on Sunday, 24 August 2014 13:23
2014 Congresses, at Peebles Hotel Hydro
 
Autumn Congress
Our next congress takes place the weekend of the 17th - 19th of October - brochure. An Improvers' congress will run alongside on the 18th and 19th - brochure.
Winter Congress
This takes place the weekend of the 12th - 14th of December. The final of the Scottish Cup and the Scottish Cup Plate will take place on Saturday the 13th. brochure
Overseas Congress 
     This takes place in Corfu between the 18th and the 25th May 2015. Brochure       Advance visit

Summer Congress
The first congress under the auspices of our new congress convener took place in July. She introduced a masterclass given by Dr. John Matheson which was well attended and thoroughly enjoyed by all. This concept will be repeated in October.  
Results    Photographs   Bulletin  Review
Details

Last Updated on Sunday, 24 August 2014 15:52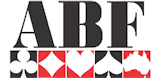 more   
---
 SBU Diaries                            Each member will receive a diary for 2014/15. These will be distributed to clubs for their home members with delivery expected late August. The website should be checked for up to date information on competitions as well as entry forms. There will be no competition brochure this year. Changes
---
    80th AGM 
Our new President - Russell Frame   
Appointed at the AGM which  was held at Stirling Bridge Club on Tuesday 27th May at 7pm. photo album          
---
EBU Blue Points....       SBU policy            
---
   details  
---
SBU - Launch "Better Behaviour" Campaign 

   
Each month there will be a different topic and clubs are urged to display the notices provided to them.        
---